Since downloading the Dashlane password manager, I have optimised and simplified my password management. Passwords can be a difficult business – too easy and you risk being hacked, too complex and you forget the password and have to go through those painful password recovery services. For most people, a password manager like Dashlane is the 'just right' option.
The premium version of the Dashlane password manager app is relatively expensive at £29.99 a year but this is well worth it for the peace of mind, convenience and host of added features a high quality password manager like Dashlane provides.
As we all sign up to more websites, more social media sites and more online stores, our collection of usernames and passwords grows into an unmanageable mess. How the majority of people get around this issue is to have the same 2 or 3, easy to remember passwords across all sites but the problem with this is you become far too easy to hack.
The easiest and best solution, for the annual price equivalent of one nice restaurant meal out, is Dashlane premium password manager.

Is Dashlane Premium password manager worth the money
It may sound excessive to spend £29.99 a year on a password manager but when you consider the convenience this application provides as well as the risk of having poorly selected password entails – it's well worth the cost.
Let's first consider security – most people in the present day still don't use a password manager but rather write down their passwords in a physical or digital notebook or use the same couple of passwords across every site that they have memorised.
Both of these methods are inexpensive and seemingly convenient but you wouldn't forego installing a lock and alarm on your home because it was expensive or time-consuming to do so. The same logic should be applied to your online security, especially as the value of your online passwords often exceeds the value of the possessions inside the home, not least when online banking is considered.
On the convenience side of things – how often in the past month have you had to click the 'forgot password' button and go through the irritating process of requesting to change your password and then resetting it to a new password you haven't used in the past? Before using a password manager, this had become a common occurrence for me. With a password manager, this is an issue of the past and I can breezily auto-login to almost every site.
So what exactly does your £29.99 a year get you? Let's have a look below at the most important features of Dashlane password manager and why the premium version is the best choice.
The most useful features within the the Dashlane password manager
As with most password managers, Dashlane premium allows you to store all of your passwords within both the phone and desktop app (with new passwords syncing between the two instantaneously via the cloud). I have found this to be hugely convenient, for example, I recently visited the Moonpig card service website to buy my brother a birthday card. Rather than racking my brain about the password I had set earlier that year and likely having to go down the route of resetting it altogether, I opened the Dashlane application on my laptop, searched for the Moonpig tile and in one click had copied the password, ready to paste it into the website to login.
Since then, I have seen common browsers like Google chrome and Internet Explorer offer a browser extension which makes this process even easier. On inputting a password to a website, a small Dashlane icon appears and when clicked, the password autofills.
The password, as it turned out, wasn't Password123 but a complex string of upper and lower case characters, numbers and special characters. Because I had this saved in Dashlane, I didn't need to worry about remembering it, it was just there – secure and accessible exactly when I needed it.
Perhaps you're thinking that this sounds a bit overboard for a card buying service, but consider this, as with all websites where you make purchases, your credit card details are often saved. If I had used an unsafe password that had been breached, a 3rd party would have access to those details.
I didn't come up with the complex Moonpig password off the top of my head, I used the inbuilt Dashlane password generator (shown below) which allows you to produce highly secure passwords at the click of the button. You tell Dashlane what sort of characters you wish to include (lower case, upper case, numeric or special) and the desired length of the password and Dashlane will produce it for you. This can then be easily copied across to the website requiring a new password.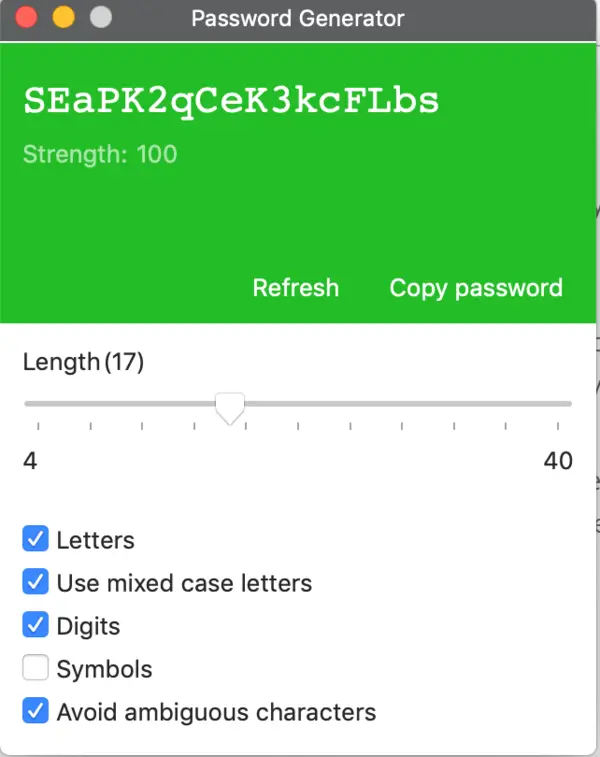 Some people have an aversion to inputting their passwords into an external service, perhaps fearing that if somebody gained access to their Dashlane account, they would have everything. This is a fair concern and highlights the need for an incredibly strong Dashlane master password (which Dashlane flags repeatedly in the installation process). To put it simply, if you set and remember a strong master password, Dashlane will take care of the rest of your online password security. This is secured even further via the optional 2 factor authentication, requiring you to input a code from your phone to sign-in.
Dashlane as both a company and an application is incredibly secure (their business depends on it after-all). Every piece of information stored within Dashlane is encrypted (i.e. scrambled into a complex code) using AES-256 encryption, which is described on the Dashlane website as 'military grade'.
For more information on the security of Dashlane, I recommend going to this page in which they explain Dashlane's decentralised platform, meaning if one Dashlane account got hacked, this wouldn't impact any other user.
What does Dashlane Premium offer above the free version
Whilst the features discussed above are hugely helpful – they should be present on most free password managers. So why do I recommenced the premium version for Dashlane?
The first reason I recommend downloading the premium package is that the free version is limited to storing 50 passwords. I currently have over 65 different login details saved so upgrading to the unlimited passwords option provided by the premium package was the clear choice.
The second reason, and for me the most crucial, is the syncing between devices. For someone like me, who works on both desktop and off of my mobile, being able to access, change and generate passwords on both devices is crucial.
There are a host of other features on the premium package that I use to varying degrees, these include:
Dark web monitoring – Dashlane's software scans the dark web and notifies you if your personal details are being used. I have never received a notification from this feature, but it is nice to know it is monitoring this in the background.
VPN (Virtual Private Network) – If connected to an insecure network, i.e. a public coffee shop wifi service, this allows you to connect to a VPN and communicate securely as you would on your own private network.
Large storage – you can store up to 1GB of files in your secure notes. This can include details such as personal ID, banking information or anything else you want to keep secure.
VIP support – if anything goes wrong with your passwords, you want to know you can access support quickly. Buying the premium service gets you priority access to Dashlane support. In the 9 months of using the paid service, I haven't had to use the support feature once (which speaks for itself in terms of the app's functionality). Despite this, it's nice to have the peace of mind of knowing the option is there should I need it in the future.
Improved password health tool – this audits all of your saved passwords and let's you know how safe they are based on Dashlane's research and how commonly used they are across sites. There is also a great option to batch change all unsafe passwords using the previously mentioned password generator which essentially allows you to make all of your passwords secure in less than a minute.

The downsides of Dashlane password manager
In a choice between a password manager and no password manager, having one will always come out on top. Having said that, nothing is perfect and this includes Dashlane.
Although I do believe £29.99 is a small price to pay for what the Dashlane password manager offers, it is still on the expensive side and not something everybody could afford. On the Progression Playbook, i'd usually recommend keeping unnecessary purchases to a minimum to achieve financial independence faster, however, securing your passwords is essential and the expense is therefore justified.
The free version of the Dashlane password manager isn't in the same league as the premium version and lags behind a couple of its competitors such as 'LastPass' – for example, the free Lastpass option gives you unlimited password storage whilst the free version of Dashlane stubbornly limits you to 50.
Head to here for an in-depth review of LastPass by Tech Radar. If you truly can't afford Dashlane premium, I would advise getting the free version of LastPass.
Although I have found Dashlane relatively straightforward to use, I'm not sure it would pass the 'Grandmother test'* i.e. could someone who isn't particularly tech inclined operate this app simply? Probably not. It would probably take a bit of getting used to. Having said that, it's interface is far more user-friendly than many of the other password managers I have tested.
'* Apologies to any Grandmothers out there who are tech savvy!
Conclusion
I have no dog in this fight and have nothing to gain by recommending Dashlane or any other specific password manager to you, however, I can sincerely say that i've been impressed with this application and strongly recommend downloading it.
Not only do password managers in general dramatically increase your security and password convenience, the premium version of the Dashlane password manager is full of other great features designed to optimise your online security.
Whilst it's my opinion that Dashlane Premium is the best all-round password management tool out there, the free version of LastPass is superior to the free version of Dashlane. So if you are unwilling to pay for a password manager, I would make LastPass your first point of call.
Download Dashlane premium from their website here.
Download Lastpass free from their website here.
Both also available via your phones app store.
This article has been written by Luke Girling, ACA – a qualified Accountant and personal finance enthusiast in the UK. Please visit my 'About' page for more information. To get in touch with questions or ideas for future posts, please comment below or contact me here.