A drop servicing business is an online venture which can provide an invaluable extra income stream. Given both the increasing risk of formal employment and the rise in home-working following the COVID pandemic, starting an online venture such as a drop servicing business to supplement your income may be a wise move.
To start a drop servicing business, you need to pick a niche and build an online storefront where you can showcase your services and capture payments from clients. This can be easily achieved by leveraging ecommerce platforms and online solutions like Shopify, WordPress and Clickfunnels.
Regular readers of The Progression Playbook will be familiar with my mantra 'maximize your surplus (income minus expenses) and invest the difference wisely'. The most efficient way to maximize this surplus is by creating a second income stream on top of your regular day job.
With all that the internet is offering today, starting an online side-hustle is becoming easier each day, allowing you to either supplement your income or even make a full-time living from the comfort of your home.
---
What is Drop Servicing?
Drop servicing is a business model whereby you sell other people's services without the need to physically provide that service yourself. Instead, you hire third-party freelancers to do the work on your behalf. It's like running an agency but instead of having employees, you hire freelancers.
When starting any new business venture, you first need to understand exactly how it works. With that being said, here's an illustrated sketch to help you visualize exactly how a drop servicing business model can be profitable.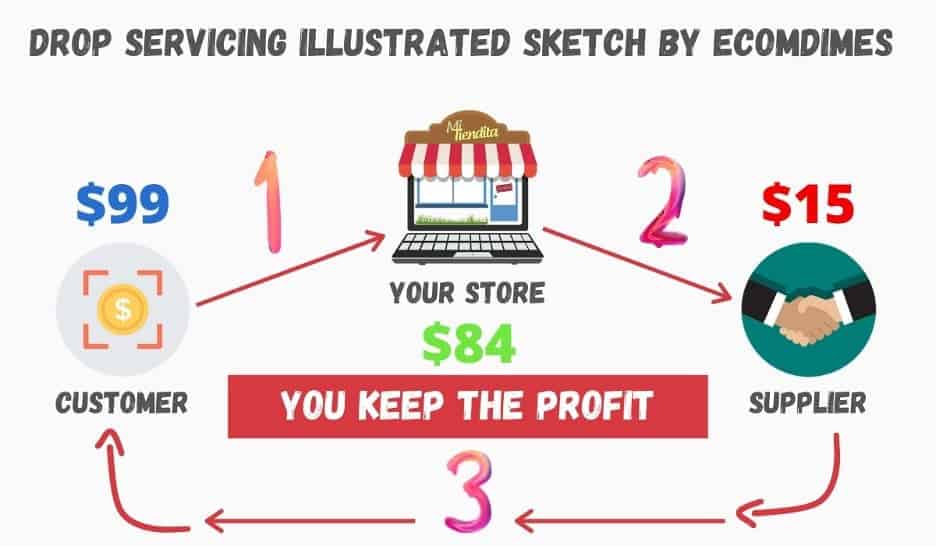 Here's what the drop servicing order, fulfillment and delivery process typically looks like:
First, you create an online storefront and showcase services you want to sell within your chosen niche.
People land on your website and purchase one of your services.
You (the service flipper) send their order requirements to a network of freelancers who will perform the actual service and pay them in advance.
The freelancer will deliver the completed work for you to review by the pre-set deadline.
You will then deliver the final work to your client under your brand's name.
The drop servicing model, at its best, is a seamless and smooth process, and when done right, it results in minimal work for everyone involved!
The customer gets a good service without shopping around for someone to perform the task, the freelancer gets access to well-paid work and the drop service business owner retains a slice of the earnings.
It's a classic win-win-win situation for the three parties involved.
How To Start A Drop Servicing Business In The UK
Below is the 4-step process for starting a drop servicing business in the UK (or whatever country you're from – the basic steps shouldn't change much between countries):
Step 1 – Picking a niche
It's important to pick a niche that you're passionate about. Whilst there may be a temptation to offer the services that can earn the most income, if you are not interested in these areas, not only will you be unable to provide an optimal service, you may also lose interest in the venture over time.
Once you have selected a niche, you should consider evaluating the competition by running some competitive analysis.
The best way to do this in the first instance is to simply use Google search. Browse through services frequently offered online and those which are often required by online users.
If you come across an in-demand service that you believe you could supply, you're onto a winner.
It may sound difficult to get a feel for which services you should consider offering. The best way to get around this problem is with a free tool offered by Google, Google Trends, that helps you better understand what's actually trending in the world.
With Google Trends, you can search specific terms and compare one search term to another, all whilst being able to adjust the location, the search source (YouTube, Google, image, etc…) and the interest over time.
When researching a potential service line using this tool, the two key things you should be looking for are:
That the service or search-term has a reasonable level of traffic
That the service is trending upwards (i.e. is being searched more over time)
Above all, this tool has a section labelled "Related terms and topics" which is a great resource to expand your opportunities and help you brainstorm more ideas.
Step 2 – Building a website / funnel
There are various solutions that will allow you to set-up a drop servicing storefront you're proud to own and promote.
For building an online store, you have multiple options:
Shopify – Shopify is an eCommerce platform that has everything you need to start selling online. Pricing starts from around £25 per month which is fairly reasonable given what this platform offers its users.
Funnel Builders – Clickfunnels has a different approach, which is creating funnels that are high converting rather than building static websites that can act as a wall. The cost involved is £80 per month but this investment is typically repaid due to the high success rate of funnels.
If you want a more in-depth comparison between each of the above platforms, check out this article.
Step 3 – Finding Trustworthy freelancers and drop services
If you want to find trustworthy freelancers then freelancing and job marketplaces is the best place to look.
There are a number of things to consider when picking your freelancers; not least is the fact that your chosen freelancers are the ones who are responsible for performing the service that showcases your brand.
This means a bad freelancer has the power to ruin your businesses reputation if not properly vetted first.
With this in mind, a successful drop servicing business operator should be picky with the freelancers you end up working with and never rely on one single person.
Freelancers may be handling multiple projects at a time, so they may not be able to commit to a specific deadline. Establishing a good relationship with a number of freelancers helps to mitigate this problem.
Step 4 – Finding customers
A drop-servicing venture only becomes a proper business when it can attract customers and have actual people purchasing your offered services.
When it comes to finding customers who are willing to pay for your services – you need to first understand the opportunities available to you and then determine what you are willing to invest.
There are dozens of ways to drive traffic to your business and secure customers. Some are free, others are paid, but all will help you get more exposure to your online business and ultimately drive sales.
Free methods to attract drop servicing clients:
Nothing beats the power of an email, and according to Statista, the number of active email users is forecasted to reach 4.3 billion in 2023.
LinkedIn is a great business to business social media platform that has quality leads and business owners who could be potential clients.
Upwork is a job marketplace that connects service providers with people who want to buy services for their business. You can create a free account and start pitching and communicating with potential customers.
Forums are filled with business owners and opportunities and most of them are free to join. You can create a free account and start helping people out with the ultimate goal of converting other users into repeat clients once you prove that your business can be the solution to their problem.
Paid methods to attract drop servicing clients:
The great thing about Google ads is that you will be targeting specific terms and keywords that people are actually searching for in Google.
This means you are directly targeting the people who are looking for solutions your business can provide.
Facebook is a massive advertising marketplace with 2.2 billion daily active users.
It allows you to target people based on location, interest, age, experience, financial level and more.
The trouble with Facebook is that most people don't fully appreciate how it works and how impactful it can be. Most people can understand and implement the basics after watching a few free tutorials on YouTube.
Clickfunnels is basically an all-in-one marketing toolkit that helps people sell their products and services online more effectively by leveraging sales funnels.
It also has one of the most powerful training courses out there to help people get started with network marketing, it's called One Funnel Away Challenge. This is a 30-day extensive life training program that trains people on how to use and create a funnel for their business.
Is There A Drop Servicing Course?
Drop servicing is a relatively new business model and far less talked about than other business models such as drop shipping (which is the same thing, only with tangible products instead of services).
As drop-servicing is relatively new, this presents a unique opportunity to get ahead of the competition. You can find some basic courses on Udemy, and eComDimes has recently published an article that discusses various drop servicing courses and opportunities.
But, do you really need a drop servicing course to succeed with this business?
You can find a bunch of free information on Google and YouTube that will tell you most of what you need to know.
However, the main advantage of a course is that it will break down the whole process for you into small, actionable steps allowing you to focus on hitting your goals by achieving things more effectively while staying focused on your overall business.
Another major benefit of an online training is the investment you make in yourself! The investment of your money, time and effort is a great incentive that can keep you going over the long-term.
Conclusion
The world is changing and mobile devices are becoming ever more permanent fixtures in our lives.
Securing your unique spot on the internet is an increasingly wise move and can be financially beneficial as online businesses continue to grow.
In fact, according to Statista, the revenue in global e-services market is projected to show an annual growth of rate of 11.8% (2020-2024), resulting in a projected market volume of $297m by 2024 which should further highlight what an opportunity drop servicing presents.
As always, please remember I am an Accountant, but not your Accountant. In this post (and all of my others) I share information and oftentimes give anecdotes about what has worked well for me. However, I do not know your personal financial situation and so do not offer individual financial advice. If you are unsure of a particular financial subject, please hire a qualified financial advisor to guide you.
This article has been written by Luke Girling, ACA – a qualified Accountant and personal finance enthusiast in the UK. Please visit my 'About' page for more information. To verify my ACA credentials – please search for my name at the ICAEW member finder. To get in touch with questions or ideas for future posts, please comment below or contact me here.
Hand-Picked Articles For You