It's no secret that many couples feel pressured to have an expensive wedding in order to impress their family and friends. However, a wedding is a big financial undertaking, and there are a lot of things to consider before you start spending money. 
While there is nothing wrong with wanting a beautiful wedding, it is important to remember that an expensive wedding does not guarantee a happily ever after. So, if you are planning your big day, focus on what is most important to you and your partner, and forget about what everyone else thinks.
Some people believe that you should spend whatever it takes to make your wedding day perfect, while others think that weddings are getting too over-the-top and expensive. So, what's the answer? Is an expensive wedding worth it? Here are a few things to consider.
Is an expensive wedding worth it?
On one hand, a lavish wedding is a once-in-a-lifetime event that can be truly unforgettable. On the other hand, weddings are already pretty pricey events, and shelling out even more money for a luxury ceremony and reception can put a serious dent in your bank account. 
If you're the type of person who loves big parties and enjoys being surrounded by luxury, then an expensive wedding may be worth the price tag. However, if you'd prefer to keep things more low-key (and save some money in the process), then a less costly affair may be the way to go.
There's a lot to think about from deciding on a date to selecting the perfect venue. And that's before you even start thinking about all the little details like invitations, favours, and decorations.
One of the first things you'll need to do is decide on a budget. This will help you narrow down your options and avoid going into debt to pay for your big day. Once you have a budget in mind, you can start thinking about other aspects of the wedding, such as the location, guest list, and menu. 
It's also important to think about how you're going to pay for the wedding. Are you going to take out a loan? Use savings? Get help from family or friends? There are pros and cons to each option, so it's important to weigh your options carefully.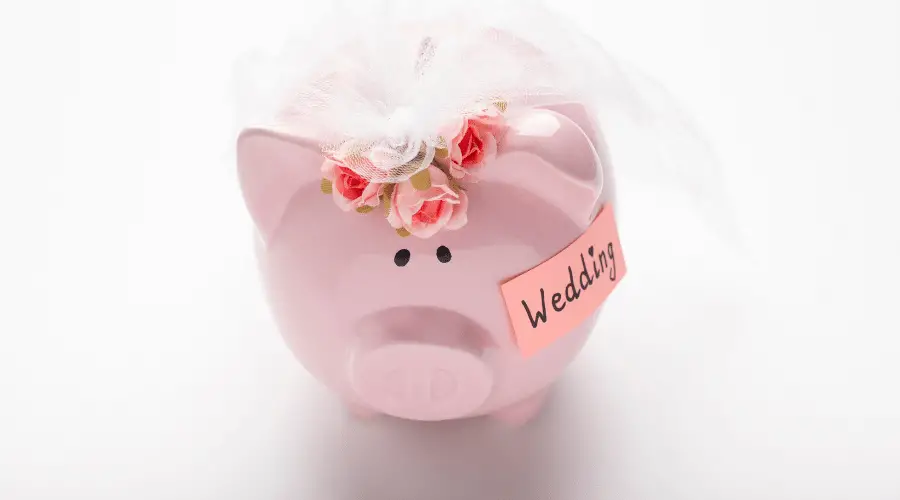 What is the average cost of a wedding in the UK? 
According to a recent survey, the average cost of a UK wedding is £30,355. This figure includes the cost of the venue, food and drink, attire, flowers, entertainment, and other expenses.
While this may seem like a lot of money, it's important to remember that a wedding is a once-in-a-lifetime event and something that lots of people have spent their whole life planning for. For many couples, the cost of their wedding is worth it for the memories they'll cherish for a lifetime. 
Of course, not everyone has the budget for a £30,000 wedding. Luckily, there are ways to save money without sacrificing style or quality. For example, many couples choose to have their reception in a less expensive location, such as a restaurant or banquet hall.
Others opt for a more intimate ceremony with only close family and friends in attendance. Whatever your budget, there are plenty of ways to make your wedding day special.
What is a reasonable budget for a wedding in the UK?
There is no easy answer when it comes to deciding how much of your wage to spend on your wedding. Of course, you want to make sure that your big day is everything you've ever dreamed of, but you also don't want to start your marriage off in debt. Ultimately, the amount you spend on your wedding should be based on what you can afford without putting too much strain on your finances.
If you're not sure where to start, a good rule of thumb is to allocate no more than 3-5% of your total wedding budget to your own personal expenses. This includes things like your gown, shoes, and accessories, as well as any pre-wedding treatments like hair and makeup. By sticking to this budget, you can ensure that you'll still have plenty of money left over for all the other important aspects of your big day.
What are the biggest costs of a wedding? 
The venue is often the most expensive item on the list, followed by the cost of the dress. Other significant expenses can include catering, flowers, music, photography and transport. 
Of course, the venue is one of the most important aspects of any wedding, so you must consider this early on in your planning. According to Hitched, the average cost of a wedding venue is £7,600, representing a significant amount of the total wedding budget. However, prices can vary dramatically depending on the location, size, and amenities of the venue. For example, a rustic barn in the middle of nowhere is likely to be cheaper than a lavish hotel in Central London.
Most experts recommend budgeting about £50-£65 per person for food and drink. This will allow you to serve various dishes and drinks, without breaking the bank. Of course, if you have your heart set on a luxurious menu, you may need to adjust your budget accordingly. Many venues will offer all-inclusive packages which are worth looking at, although initially looking costly these packages eliminate any surprise costs later on and give you the peace of mind that all your needs are taken care of. 
It's no surprise that alcohol is high on the list of the most expensive outgoings for a wedding. On the one hand, it can be seen as a gracious gesture to offer free drinks to your guests. On the other hand, it can be expensive to keep a full bar stocked for a party. Consider the type of atmosphere that you want to create and what arrangement would suit your guests and your budget.
Photographers can be a great addition to any wedding, providing beautiful and lasting memories of the big day. However, they can also be quite expensive, and it's important to consider whether or not the cost is worth it. The average spend on photography for a wedding is around £1200. 
The average cost of a wedding flower arrangement is around £100, but this can vary depending on the type of flowers you choose and the number of arrangements you need. You can also save money by creating arrangements or using cheaper alternatives like potted plants. Some venues are already decorated for weddings and so you may feel that extra flowers are unnecessary. 
Do people usually take a loan for their wedding?
For many couples, taking out a loan is the only way to finance their dream wedding. While some people may be uncomfortable with the idea of going into debt for their big day, for others it's simply a matter of budgeting and prioritizing. 
A survey on the wedding website Hitched revealed that two-thirds of couples were given money by family or friends to help them pay for their wedding. The survey also revealed that 7% borrowed money from a friend or family member, meaning that almost three-quarters of couples had some financial help from a relative or friend to pay for their wedding.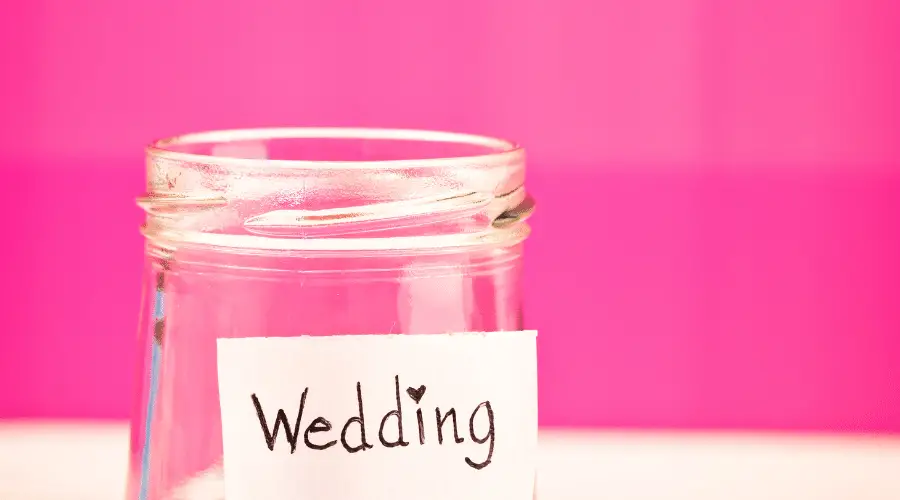 Are destination weddings cheaper than traditional weddings?
Destination weddings have become increasingly popular in recent years, as couples look to escape the stresses of planning a traditional wedding. But are destination weddings actually cheaper than getting married at home? 
Destination weddings can often be less expensive because you can eliminate many of the traditional costs associated with a wedding, such as renting a venue, hiring a caterer, and purchasing decorations. You may also find it easier to keep the guest list down when planning a destination wedding, as there are fewer people who expect to be invited. 
However, you also incur additional expenses, such as travel costs for your guests and yourself, and accommodation for your guests if the wedding is in a remote location. As with a traditional wedding, a destination wedding can be an expensive event or done on a budget, depending on your personal preferences.
Tips for saving costs on your wedding
The costs of a traditional wedding can quickly add up, leaving you deep in debt before you even start your life together. If you're looking to tie the knot on a budget, there are a few ways to cut costs without sacrificing style or quality. 
First, take a look at your guest list. A smaller guest list will mean lower costs for food and drink. Second, consider getting married during off-peak season. Venues and vendors are often cheaper during winter or midweek. Third, DIY as much as possible. From invitations to decor, there are plenty of ways to save by doing things yourself. With a little creativity and planning, you can have the wedding of your dreams without breaking the bank.
---
As always, please remember I am an Accountant, but not your Accountant. In this post (and all of my others) I share information and oftentimes give anecdotes about what has worked well for me. However, I do not know your personal financial situation and so do not offer individual financial advice. If you are unsure of a particular financial subject, please hire a qualified financial advisor to guide you.
This article has been written by Luke Girling, ACA – a qualified Accountant and personal finance enthusiast in the UK. Please visit my 'About' page for more information. To verify my ACA credentials – please search for my name at the ICAEW member finder. To get in touch with questions or ideas for future posts, please comment below or contact me here.