Things 3, developed by Cultured Code, is one of the premium productivity applications ("apps") on the market. Whilst most people won't have considered shelling out their hard earned cash for a productivity app – I can say from personal experience that this app starts paying for itself from the get-go by simplifying your do-list and allowing you to remember and be notified of all tasks you have to complete on any given day.
Things 3 is a sleek and easy-to-use task managing app available across Apple products. The app comes with a cost of a one-off fee of £48.99 on Macbook and £9.99 on iPhone. The apps suite of features includes deadlines, calendar integration and checklists, all of which help you to organise your life.
When it comes to productivity and getting things done, we all have our own system. Even to this day, for my work tasks, I write the date at a top of a piece of paper, write the tasks I need to accomplish with a little square checkbox next to them and fill the square in with a pink highlighter when it's done. This non-technological solution may work well for work but for the busy amongst us, getting an app like Things 3 can really be the difference maker. So let's take a look at 7 reasons why this is an app I personally have paid for and why you may want do the same.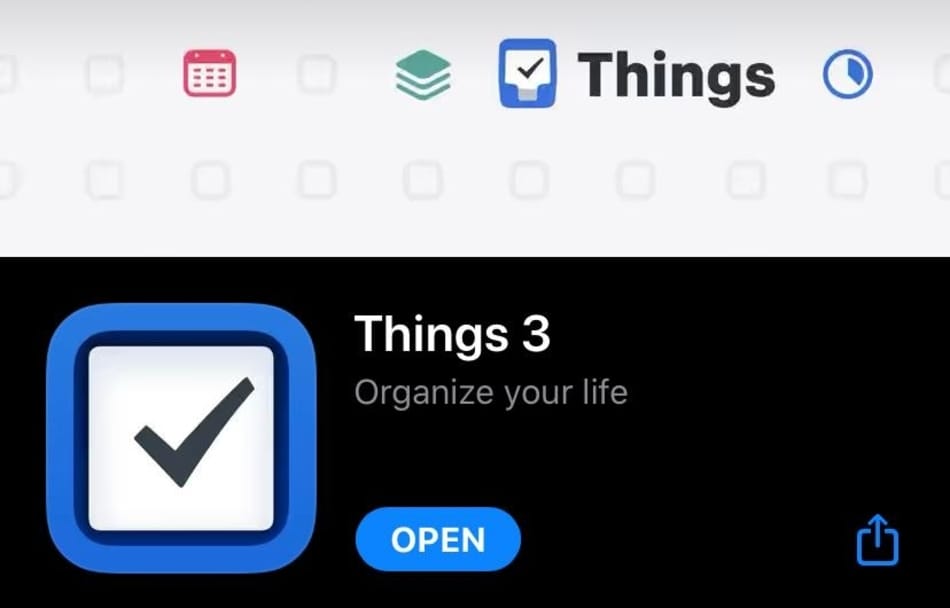 #1 – Split your to-do list by area e.g. personal, work, side business
The first feature of Things 3 which I am a big fan of is how you can split your to-do lists by area. For example, I have my app configured so that I have seperate sections for personal, work and this blog. This is a nice way of compartmentalizing the different areas of your life. For example, whilst working I will only have the 'work' area open showing me what my tasks are for the day. Similarly, at the weekend, I wouldn't have my work area open and can just see the to-do's I have open in my 'personal' section such as 'meet friend at London Bridge tube station at 7'.
I also have an area set up for 'shopping' in which I add a checklist (discussed further below) with anything I need to buy that week which I keep as a shopping list that I can update as and when needed items I need pop into my head.
#2 – Integrate your things 3 app with other devices
Once you have purchased both the iPhone and Mac versions of the app, you get the benefit of syncing between the two. For people who work from their Mac whilst using their iPhone on the go, this is the perfect set up for maximising your productivity. As you tick tasks off on your phone, it will seamlessly sync to your Mac and visa versa.
#3 – Set yourself reminders and repeat tasks periodically
I maintain a Excel document budget which I update on a monthly basis comparing what I have actually earned and spent to my budgeted figures. Prior to downloading Things 3, I would often forget to do the monthly updates and would end up having to back-fill two or three months worth of data whenever I got round to doing it. Using the app, I can add a task in my personal area which states 'update excel budget' and assign it against a specific day of the month and set it to repeat each month after that. Two minutes work in total and I get notified every time I need to perform the task from then on.
Similarly, you can get yourself reminders by adding a new task, assigning a date against it and then requesting that the app notifies you on that date with a ring-tone style reminder. For example, if you know you need to send your friend a birthday card on a particular date, you can insert that task with a reminder for that date in a couple of seconds and dramatically reduce the chances of you forgetting.
#4 – Easily set deadlines for your tasks
On a similar theme, you can easily set deadlines for tasks to let yourself know when you need to do something by. This is a particularly useful feature to use whilst at work; if you have a number of work tasks with overlapping deadlines, laying these out within the Things app lets you visually lay out your commitments and when you are due to complete them by. I have found that this has allowed me to meet work deadlines much more easily as I can see when I have deadlines coming up within the app and plan my time accordingly.
#5 – The interface is sleek and easy to use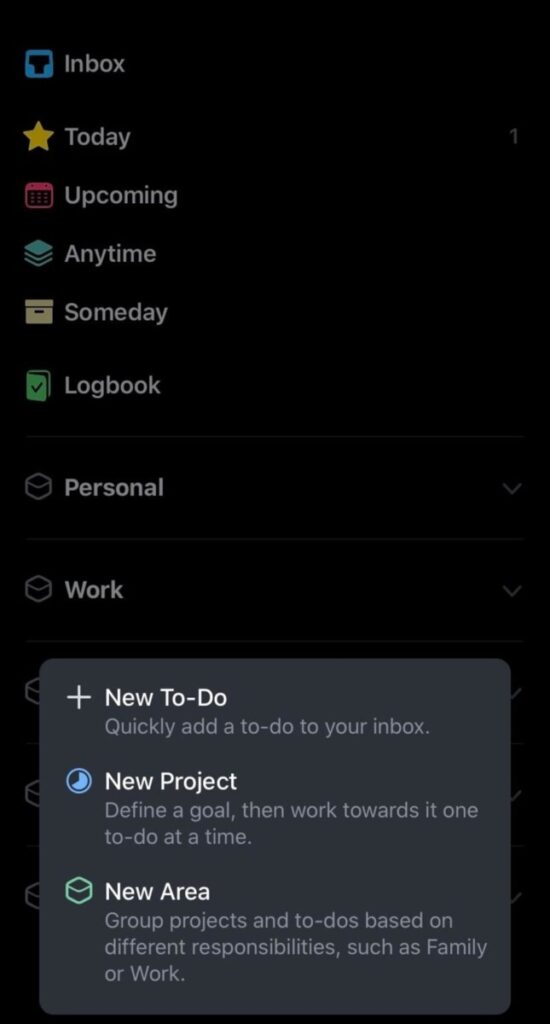 This app has a number of great features but what immediately set it apart for me was just how nice to look at and how easy to use this app is.
The app has a number of menus as you can see including the following:
Inbox – a dropping ground where you can add new tasks as you think of them which can be triaged into other categories later.
Today – which shows all of the tasks you have assigned against todays set
Upcoming – where all of your upcoming tasks are shown by date in a calendar style view.
Anytime – a summary of your tasks which have not been assigned against a specific date.
Below these menus are your 'areas' which are explained above which allows you to separate out your tasks by 'personal', 'work' or any other category you can think of. This layout is very user-friendly and easy to navigate even if you're not particularly tech savvy.
The app offers both a 'light' and 'dark' mode which both look sleek and clean, my personal preference is the 'dark' mode as can be seen here but both modes are really visually appealing.
Things 3 can also boast usability that it's competitors lag behind on. Even things as simple as dragging and dropping your tasks into priority order is hugely helpful and something that certain competing apps haven't managed to include. In fact, pretty much all of the apps main uses such as creating to-do's, creating area and adding deadlines, reminders and checklists are intuitive to do.
#6 – Add checklists and categories to your tasks
My favourite feature within the app is the ability to add checklists under your new to-do's. I use this feature as a way of setting sub-tasks under a main task. For example, if I put 'complete feedback presentation' into the app as my primary task and assign it a deadline date of tomorrow, I may then add subtasks underneath such as 'complete slides 1-5', 'complete sides 6-10', 'request team feedback' and 'update presentation for comments'.
This is a nice way of breaking down a big, seemingly daunting task into smaller more manageable pieces which I have found is a great way to get through important tasks (both at work and personally). This app is simply the tool I use to implement this productivity trick.
Similarly, you can assign tags like 'critical', 'important' or 'do when you have a chance' to each of your tasks to visually demonstrate the importance of each item on your to-do list.
What's great about this app is despite all of these features, the app maintains a minimalist, simple design.
#7 – Integrate Things 3 with your calendar of choice
The final feature which makes Things 3 my productivity app of choice is the fact that this allows you to integrate your iPhone or Google calendar to the app. This allows you to see your events within the Things 3 app alongside your to-do's and plan your time accordingly. This is particularly useful for busy days when you can see what time will be spent in meetings and other events and what time is left spare to get through your tasks.
What are the alternative to Things 3
There are a number of viable alternatives to Things 3 – namely Todoist, 2DO and Omni-focus. The best prices for the premium versions are as shown below:
| | | |
| --- | --- | --- |
| App | iPhone | Macbook |
| Things 3 | £9.99 one-time fee | £48.99 one-time fee |
| Omni-Focus | £69.99 one-time fee (get watch and iPad access) | £9.49 per month or £94.99 per year (with free iPhone access) |
| Todoist | £3.99 per month or £35.99 per year | £3.99 per month or £35.99 per year |
| 2Do | £19.99 one-time fee | £48.99 one-time fee |
As you can see, amongst it's competition, Things 3 is fairly priced and is actually more reasonable than both Omni-Focus and Todoist which charge on a monthly or yearly basis. 2do is very similarly priced for Mac (despite having a slightly less functional app) and is even more expensive on the iPhone.
All three of these competing apps are popular and highly rated. Having tested all four, Things 3 emerged as a clear winner for me – not only are the features slightly better in each case, the interface is far more simple, sleek and intuitive which makes managing my tasks easy.
The closest competitor on my review was Omni-focus, however, I didn't like the subscription style payments and on Mac it was more notably more expensive (£94.99 for the year vs £48.99 one time fee). The uptick in price for Omni-Focus didn't seem to correspond to better features or a better interface but this may just be personal preference.
Are there any limitations to Things 3
The first big limitation of Things 3 is it limited to Apple devices, meaning you wouldn't be able to use it if you don't have an iPhone, iPad or Macbook. Whilst this is frustrating for non-apple users, it's a blessing for the rest of us as the app is perfectly optimised for the Apple products.
Having said that, another slight limitation is that you have to shell out money separately for the iPhone, iPad and Macbook apps, You would have thought that paying £48.99 for the Macbook app would give you automatic access to the iPhone & iPad versions but unfortunately not.
This ties in nicely to my final complaint which is the cost of this app. Whilst it's priced inline or better than equivalent competitor apps, it is still a lot of money to pay for a task management app and not an expense many of us can justify splashing out on.
Why Things 3 is worth the cost
Things 3 is not cheap, particularly on Macbook which costs £48.99. The iPhone price is a little more reasonable at £9.99 and for many users, starting with the iPhone app only may be a good choice. £9.99 is less than a single cinema ticket and will give you access to a best in class productivity app which will bring huge benefits to your life in terms of boosted productivity and the peace of mind of never missing important deadlines or tasks.
The Mac app is expensive and may not be appropriate for most people. For those of you who work from your Macbook, it is probably worth the extra money, especially as the one-time fee will give you access to this application for the rest of the app's life and allow you to make use of the excellent cross-device integration.
Conclusion
For the best Things 3 experience, it is well worth purchasing on both Macbook (£48.99) and iPhone (£9.99) which gives you an excellent task-managing set-up across devices. If this is deemed too expensive, downloading on just your iPhone will still help you bolster your productivity, particularly if your primary device is your smartphone.
Alongside the sleek, user-friendly design, Things 3 is packed with features that make managing your tasks and to-do lists quick and easy. The app allows you to instantly add to-do's to your inbox which can be categorised and tweaked at a later time. You can set deadlines, reminders, recurring tasks and checklists as appropriate all whilst integrating with your calendar.
There are a number of other strong competitors out there including Todoist, 2Do and Omnifocus all of which are robust, helpful task managing apps. I continue to use Things 3 as I am a huge fan of the functionality, host of features and sleek interface this app offers.
For the price of one takeout meal, you can download a best in class task managing app which will boost your productivity, ensure you never miss important tasks or deadlines and allow you to structure your life to keep your energy free for more important things – in my opinion, it's well worth the cost.
Download Things 3 here for your iPhone, Ipad or Macbook.
This article has been written by Luke Girling, ACA – a qualified Accountant and personal finance enthusiast in the UK. Please visit my 'About' page for more information. To verify my ACA credentials – please search for my name at the ICAEW member finder. To get in touch with questions or ideas for future posts, please comment below or contact me here.