The CIMA qualification is a great first step into a career in Accountancy. One of the first questions that those who are considering this qualification may have is "just how hard is the CIMA qualification?"
The CIMA qualification exams are difficult, especially for those with no prior training. With exams covering both finance and management, the breadth of information can be difficult for many. However, with the right resources and commitment, the exams are passable as shown by recent pass rates.
Whether you're seriously considering the CIMA qualification or are just looking into it as a potential option, I will clarify exactly how hard the CIMA qualification is, compare it in difficulty to similar qualifications such as the ACCA and specify the most challenging aspects of this course.
How hard is the CIMA qualification?
The CIMA qualification involves 16 exams split into four levels (as shown below) which include the certificate level, the operation level, the management level and finally the strategic level.
Each of the four levels involves three objective tests designated by letters such as 'P3' for the Risk Management exam and then a case study style exam which covers the breadth of the information covered in the level.
Looking vertically, the course can be thought of in three pillars – strategy (blue shapes), management accounting (dark green shapes) and financial reporting (light green shapes).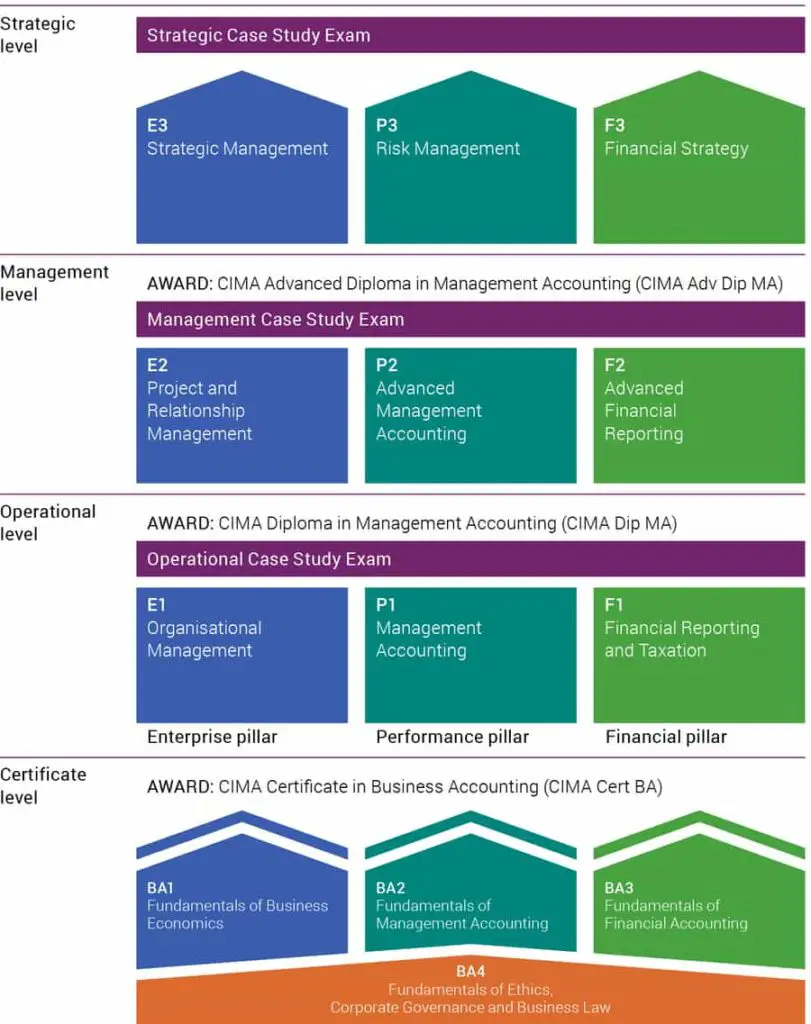 The CIMA qualification is known to be challenging but passable with the right commitment. This is reflected by the pass rates. At the certificate level, the pass rates range from 70% in the BA3 module (Fundamentals of Financial Accounting) to just 56% in BA4 (Fundamentals of Ethics, Corporate Governance and Business Law).
A similar story is seen in the pass rates for the exams at the other levels. For example, the E2 exam (Project and Relationship Management) has a pass rate of 87% in the most recent sitting whilst only 51% of candidates pass the tricky P1 (Management Accounting Exam) in the objective test modules.
Having spoken to a colleague who has completed the CIMA qualification, the anecdotal experience of candidates is that the Case Study style exam at the end of each level is the most challenging due to the breadth of content included and the less predictable nature of the exam.
Most candidates take anywhere from two to six years to complete the CIMA exams and earn the designation. Many students begin the qualification hoping to complete the entire thing in around two to three years so they can become fully-fledged Accountants as soon as possible and start earning the salary that comes with that position.
However, it can be very challenging to get through 16 tough CIMA exams in such a short period given the significant breadth of information and the risk of burnout from doing so many exams back-to-back.
Similarly, many CIMA candidates report that one of the biggest challenges is juggling the exams and other working commitments. This is especially the case for those looking to complete all the exams in a short time frame.
Is CIMA harder than ACCA?
Similar to the CIMA qualification, the ACCA (Association of Chartered Certified Accountants) qualification is a possible route to becoming a chartered accountant.
The two courses have many similarities including a large number of exams (16 for CIMA, 13 for ACCA) and a challenging content base. The biggest difference between the two is the greater focus on management accounting and strategy within CIMA vs the focus on technical financial accounting and auditing in ACCA.
There is no clear indication of which is more difficult out of the ACCA and CIMA qualifications. Different candidates would likely find either more difficult depending on their experience and skillset at the outset.
Due to the case study heavy nature of CIMA, it is arguably more focused on applying knowledge to scenarios and is, therefore, a little more subjective whilst the ACCA tests whether students have specific knowledge on the examined topics.
A very small number of people would ever complete both qualifications (as there is no real benefit to doing so) so an apt comparison of the two courses is difficult to make but on the surface, they appear to be an equivalent level of difficulty.
Both courses are "professional qualifications" which are generally considered more difficult than A-Levels and University degrees, although I'm sure most would find an Accounting qualification more straightforward than a physics degree.
For more on this, have a read of my recent post on ACA, ACCA and CIMA – what's the difference?
What is the hardest exam in the CIMA qualification?
In the most recent exams sittings, the CIMA exams with the lowest pass mark were the P1 (Management Accounting) and P2 (Advanced Management Accounting) exams which both had a pass rate of just 51%. This pass rate is defined as total exams passed / total exams taken.
This suggests that the management accounting pillar (the central column in the above syllabus diagram) is the most difficult.
Anecdotally, CIMA candidates I have spoken to have suggested the material gets more challenging as you progress through the levels i.e. the top 'strategic level' is harder than the 'operational level' with your knowledge and understanding being developed as you progress through the course.
This doesn't seem to tie through with the pass rates which are generally lower at the lower levels, however, this does make sense as only the strong candidates who have made it through the lower levels will be eligible to sit the higher level exams.
As mentioned above, CIMA candidates report that the Case Study papers at the end of each level are the most tricky as it covers the strategy, management accounting and financial reporting aspects of the course and the inter-relations between each of these aspects.
Of the four initial 'certificate level' exams, BA4 (Fundamentals of Ethics, Corporate Governance and Business Law) appears to be the most difficult with a pass rate of just 56% in the most recent sitting.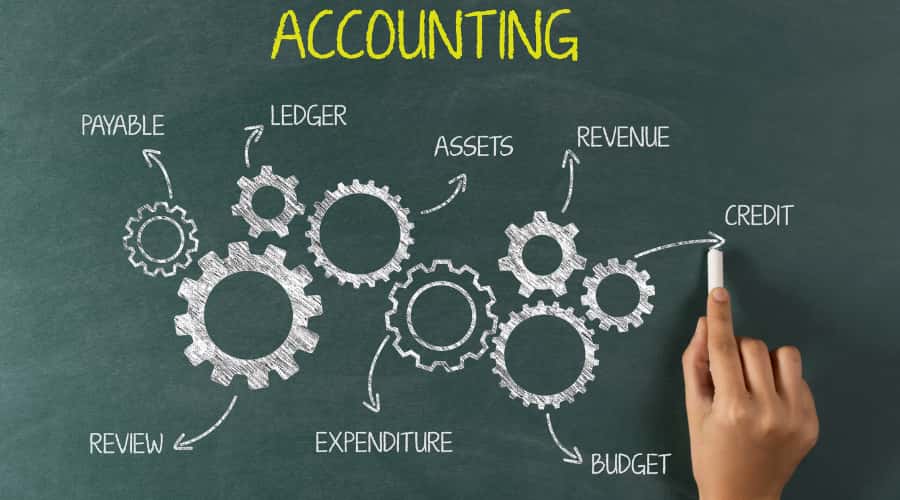 What does CIMA stand for?
The CIMA qualification stands for the "Chartered Institute of Management Accountants".
Unlike the ACA qualification, which allows candidates to use the ACA letters after their name upon qualification, CIMA qualified Accountants use the 'CGMA' designation which stands for "Chartered Global Management Accountant".
Interestingly, sub-qualifications are achieved on the completion of each level. For example, once you pass the four certificate level exams, you will have earnt a CIMA Certificate in Business Accounting.
Similarly, once the operational level exams are passed, you will earn a CIMA diploma in management accounting and on completion of the management level will earn an advanced diploma in management accounting.
Whilst these sub-qualifications are nice to show on your CV and may impress potential employers who are looking to sponsor CIMA candidates, it's important to note that they are not internationally or seriously recognised as full Accounting qualifications until all exams have been passed.
The full CIMA qualification and related 'CGMA' designation are only earnt on completion of all 16 exams and the necessary practical work experience.
Unlike other Accounting qualifications like the ACCA and ACA, CIMA candidates can only progress to the next level on completion of the proceeding level, for example, candidates can't sit management level papers until the operational level is complete.
Before moving on, take a breather to recover from all those acronyms!
How to pass the CIMA exams the first time as fast as possible
Many candidates around the world are looking to pass all of their CIMA exams on the first attempt and as fast as possible so they can begin their careers as Chartered Accountants.
Realistically, the fastest candidates can complete the CIMA qualification is in around two years. However, three-plus years is more realistic with many candidates taking four or five years.
Looking at it logically, passing 16 exams in two years is a tall order as this works out at completing a difficult exam every six weeks for a two year period. Whilst possible, this is hugely challenging in reality and will likely result in burnout.
However, many people, including this CIMA qualified Accountant on Youtube, have completed all of their CIMA exams on the first attempt in around 2.5 years which shows it can be done quickly.
Crucial to this success is surrounding yourself with people looking to complete the qualification in a similar time frame by joining online or in-person groups who can motivate each other and share advice.
Developing good habits to aid consistency like committing to one hour a day will be important but it's also crucial to ensure some semblance of work-life balance is achieved to avoid burnout.
What does a CIMA Accountant do?
The CIMA qualification can lead to a wide range of career options within the Accounting and Finance arena. As discussed above, the CIMA qualification is more focused on management accounting than technical accounting or auditing.
With this in mind, CIMA candidates are less likely to find themselves working in audit firms like the Big 4 (which I wrote about here)
This means CIMA qualified Accountants tend to work in an industry i.e. for an individual company, firm or fund.
According to career sites, the most common career paths for a CIMA qualified accountant include the following:
Management Accountant
Financial Analyst
Financial Accountant
Credit analyst
Assistant Accountant
Group Accountant
Fund Accountant
Financial Controller
Financial Director
CFO
This should make it clear that a number of different and varied career paths are open to those who pursue and complete the CIMA qualification.
Does the CIMA qualification make you a Chartered Accountant?
A CIMA qualified accountant is a chartered accountant which we know because CIMA stands for the "Chartered Institute of Management Accountants".
Put simply, a Chartered Accountant can be defined as an Accountant who belongs to a professional body or 'charter' such as CIMA, ACCA or ACA.
It's important to note that there any many people working as Accountants i.e. they perform the work activities associated with the accounting profession that can not be considered chartered accountants as they have not received a professional qualification so don't belong to a professional body.
The major benefit of becoming a chartered accountant is that it lends credibility and prestige to your job title. For example, individuals are more likely to hire a chartered accountant as they are reassured by the level of training the Accountant must have had.
Similarly. a Chartered Accountant is bound by the ethical standards set by the professional body they are a member of. Deviating from these ethical standards can result in expulsion from the professional body which, again, gives potential clients greater confidence in the professional.
What qualifications do you need to study CIMA?
Despite the difficulty of the CIMA qualification, candidates do not need to have any previous qualifications to study CIMA.
Whilst not a pre-requisite, having related qualifications such as a degree in an Accounting & Finance related subject can be invaluable in preparing for the CIMA qualification. A related degree may also allow a CIMA candidate to be exempted from taking certain exams which are substantially similar to the exams taken during the undergraduate degree.
Typically, candidates with non-Accounting backgrounds will start with the CIMA Certificate in Business Accounting which is the base layer of the syllabus diagram shared above.
Per the CIMA website, there are a number of routes to studying the CIMA qualification for the following groups of people:
Graduates and Undergraduates
Unchartered Accounting technicians
A member of an alternative professional body or programme
Everybody else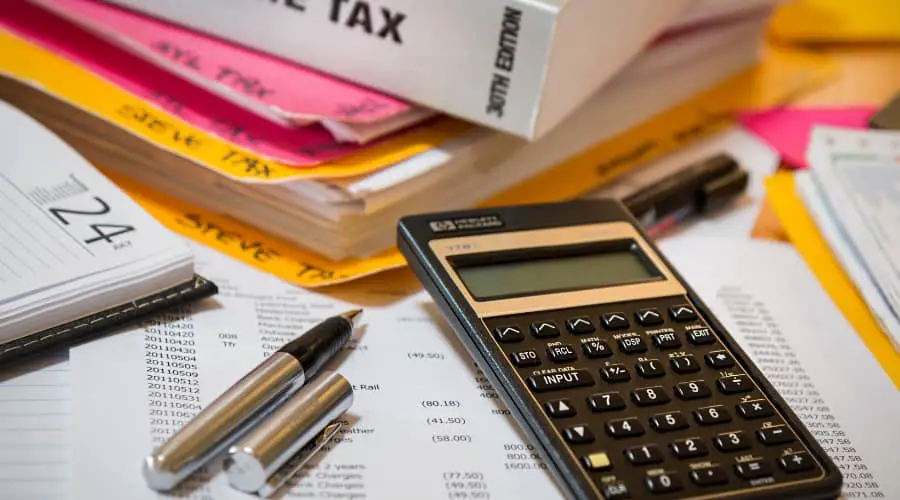 What salary can you earn after becoming a CIMA accountant?
How much a CIMA qualified Accountant will earn clearly depends on the job role, Company, location and progression of each individual. However, Accountancy as a field is a well-paid, stable career choice.
Once fully qualified as a CIMA Accountant, you will likely put a floor on your future earning potential at around £45k -£50k per annum meaning that you will never earn less than this amount assuming you make use of the qualification and work full time.
There isn't a cap to your earning potential as some CIMA qualified Accountants have gone on to earn significant salaries as CFOs or even CEOs of major corporations.
A strong performing CIMA qualified Accountant will most likely earn between £50,000 and £120,000 for the majority of their career.
Unlike many other careers, the future risk of Accounting or Auditing being fully replaced by technology or AI is low, which I wrote about in more detail here if interested.
---
As always, please remember I am an Accountant, but not your Accountant. In this post (and all of my others) I share information and oftentimes give anecdotes about what has worked well for me. However, I do not know your personal financial situation and so do not offer individual financial advice. If you are unsure of a particular financial subject, please hire a qualified financial advisor to guide you.
This article has been written by Luke Girling, ACA – a qualified Accountant and personal finance enthusiast in the UK. Please visit my 'About' page for more information. To verify my ACA credentials – please search for my name at the ICAEW member finder. To get in touch with questions or ideas for future posts, please comment below or contact me here.