Between finding the right clothes for you and your lifestyle, and deciding how much of your money should actually go towards clothing purchases each month, it's no wonder so many people find it difficult to maintain a wardrobe they are truly satisfied with.
The answer will vary for everyone depending on their current financial situation and lifestyle. A good guideline is usually 5 to 10% of your total after-tax monthly income; however, this can change depending on your other costs and where your current financial priorities lie. 
Whether you're looking to spruce up your look without overspending, or just trying to get better at managing your outgoings on clothes in general, our blog post will give you all the necessary knowledge needed to make budgeting for fashion stress-free! 
How much should you spend on clothes each month?
Shopping for clothes can be an overwhelming experience. Part of it can stem from confusion about how much money to spend on clothing and how many items you should buy in a given month or year. It's easy to overspend when buying new clothes, especially if we're trying to keep up with the latest trends or want only the highest quality fabrics.
On the other hand, scrimping too much and going for bargain prices can leave us feeling like our wardrobe looks incomplete. If you're trying to make the most of your money, you might be asking yourself how much you should spend on clothing each month. A huge part of this decision will come down to your spending priorities. For example, if you live in an area with high rent prices you may want to reduce spending on clothing in order to maintain a budget that is realistic for the amount you are earning. 
The best way to ensure responsible spending is by planning ahead: set aside money for clothes or establish a clothing budget at the beginning of each month and stick to it!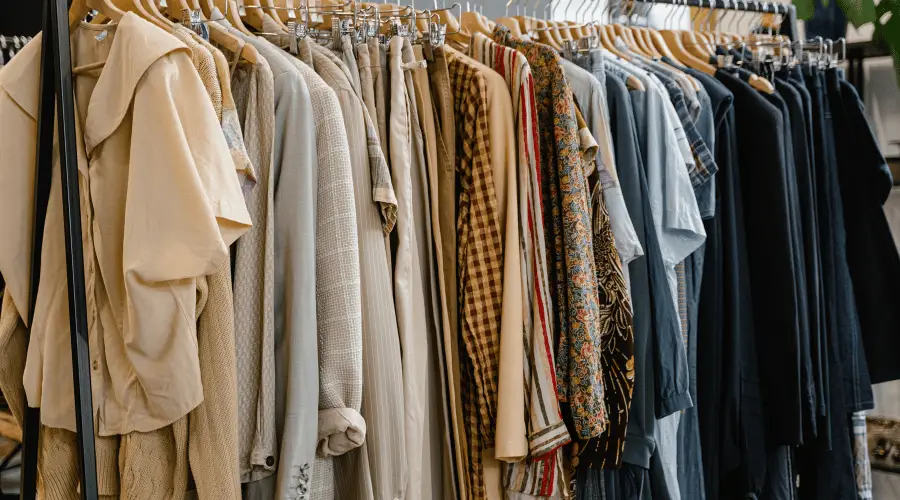 Should I include purchasing clothes in my monthly budget?
Adding clothing expenses into a monthly budget is often a smart decision, as buying the right pieces can not only have you looking your best but also help you to save in the long run. For example, instead of opting for trendier and cheap clothing that will wear out quickly, investing in higher-quality items means you'll save money when it comes time to shop for a replacement.
Additionally, added costs such as dry cleaning services and laundry detergents will be lower if the fabrics are of good quality since they will last longer and require fewer washes. Allocating funds to add new clothes to your wardrobe allows you to create looks that fit your individual style and flatter any figure. Purchasing clothes can be an investment when done properly, so having it in your budget makes complete sense.
What is the average amount spent on clothes in the UK for a Woman?
The amount of money a woman spends on clothes each month varies substantially, depending on several factors. Most notably, an individual's wardrobe needs will vary significantly based on lifestyle and job requirements.
A woman who works in the corporate sector might spend more each month on new outfits for important meetings or business trips than someone with a relaxed dress code, while a student may feel less pressure to buy new clothing every month as budgeting becomes a priority. Additionally, cost-saving measures such as shopping second-hand or waiting for sales can significantly reduce spending on clothes. Therefore, the actual cost of clothing for any given woman each month greatly depends on her unique circumstances.
According to Barclays, the average UK woman spends around £53.90 per month on clothing. While this is the mean amount spent, it's likely due to a broad range of incomes and habits; some women may be spending far less than that and others will be spending significantly more. It's worth noting that this number also includes both formalwear as well as casual wear, meaning it could be higher or lower depending on how often someone needs to buy new work clothes such as suits or dress shoes. 
Clothes shopping can also be incredibly expensive depending on where a person shops – while there are lower-cost retailers, many clothes are sold at increasingly competitive prices from top-tier labels. All in all, different people have different styles and budgets for clothing, so the amount spent by each woman varies greatly.
What is the average amount spent on clothes in the UK for a Man?
Men in the United Kingdom spend an average of £67.10 on clothes, according to a recent survey. This figure equates to over £300 more per year than women in the UK. It is clear that British men are spending more money than ever before on their clothes. The greatest increase has been seen amongst young men aged 18-25, with younger millennials increasingly likely to wear designer labels and invest in high-end clothing pieces. 
Many people may be surprised that men spend more money per month on clothes than women. This could be explained by men earning higher incomes and having more disposable income, or that there are more men in jobs where their work attire is a necessary expense. It could also simply demonstrate that men's clothing has become trendier than ever before and that men are excited to spend that little bit extra on fashion. 
How much should a family spend on clothes per month?
How much a family should spend on clothing per month can vary drastically depending on their individual budgets and needs. It's important to carefully consider the situation and determine what is most practical. This will often involve assessing the age of children in the family and how rapidly they are outgrowing clothes, as well as their preferences when it comes to fashion trends and other items they want in order to fit in with their peers.
Certain luxury brands may be too expensive for many families, so looking for deals or buying at thrift stores are great alternatives if staying within a budget is a priority. Ultimately, thoughtfully allocating money towards clothing makes it easier to stay fashionable while still staying within your means.
How to sell clothes you no longer need
Selling clothes you no longer need can be a great way to de-clutter your wardrobe, make a little extra money, and help someone else find something they genuinely love. With the popularization of e-commerce websites such as Ebay and Etsy, it is easier than ever to list your items for sale.
Before you get started, make sure to take clear photos of the item you are selling, be aware if any stains or marks on it, and write an accurate but honest description. When setting the price for your items, try to look at other listings of similar items in order to remain competitive. Finally, always remember that customer service is key – reply back promptly to enquiries and try to provide as much detail as possible so potential buyers can get an accurate sense of what they will be purchasing.
See below for my links on how to save on these sites:
Does a capsule wardrobe save money?
Absolutely! Investing in pieces that go together and can be mixed and matched to create several different looks is much more economical than buying separate items for one single outfit. A capsule wardrobe gives you the ability to make the most out of your clothing budget while still having variety in your everyday style. Not only will a capsule wardrobe give you multiple combinations of outfits, but it will also help reduce the time spent deciding what to wear each morning. Spending time wisely on the perfect pieces for your closet will save both time and money in the long run.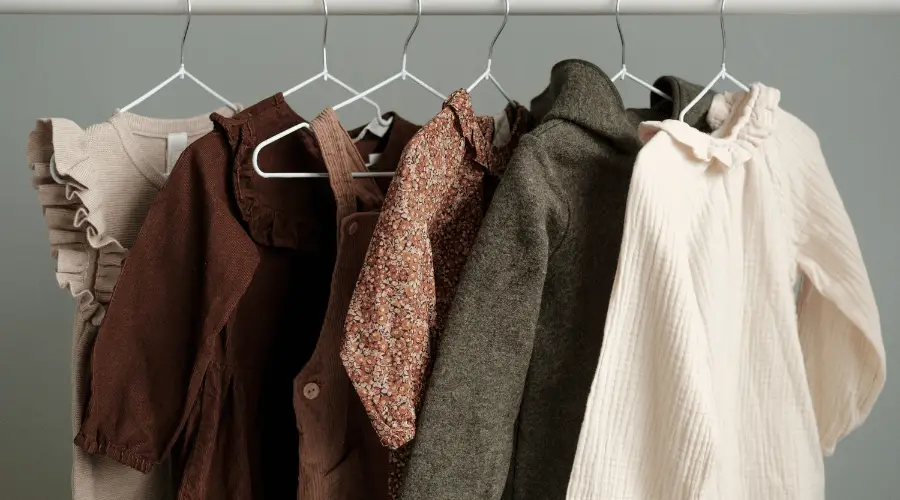 How much should you spend on your children's clothes? 
When it comes to children's clothing, there is no necessarily "right" amount that needs to be spent. With the rising costs of other day-to-day necessities, parents may need to be more mindful when deciding what to spend on clothing for their children. It's important to find a healthy balance between practicality and affordability. Shopping properly can go a long way, consider buying in bulk or opting for quality items that might last longer. Ultimately, what matters most is finding clothes that are comfortable and age-appropriate so children can have fun while staying safe.
---
As always, please remember I am an Accountant, but not your Accountant. In this post (and all of my others) I share information and oftentimes give anecdotes about what has worked well for me. However, I do not know your personal financial situation and so do not offer individual financial advice. If you are unsure of a particular financial subject, please hire a qualified financial advisor to guide you.
This article has been written by Luke Girling, ACA – a qualified Accountant and personal finance enthusiast in the UK. Please visit my 'About' page for more information. To verify my ACA credentials – please search for my name at the ICAEW member finder. To get in touch with questions or ideas for future posts, please comment below or contact me here.